Consortium:
Project Hashtag:
#SARAF
Watch the experiment's video here.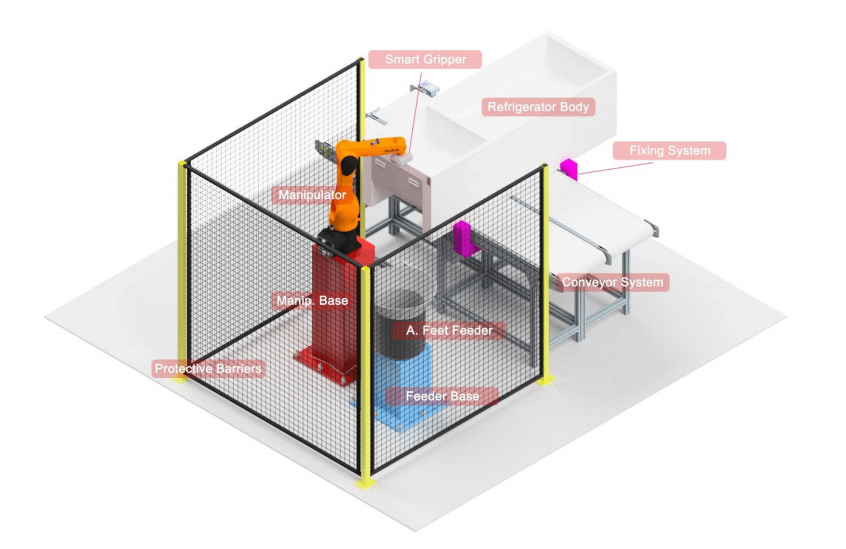 Overview
The SARAF experiment aims to develop a holistic robotic solution for the refrigerator adjustable foot assembly. The project has three main objectives: Rapid and robust prototyping of a basic robotic cell for refrigerator adjustable foot assembly consisting of smart foot-runner gripper, control software and hardware; validating and demonstrating a safe, user-friendly, easy-to-set-up, cost effective, counter-outpouring, short-time solution; undergoing the necessary business development of SARAF for mass production and market penetration in the refrigerator adjustable foot assembly and related similar industrial needs segment, including certification and safeguarding the intellectual property and commercialization rights of the parties involved in the development of the SARAF technology.
The developed system will include following features:
• Gripper: The adjustable feet will be gripped from the feeder with this specially designed dexterous gripper.
• Vision System: The exact location of the screw holes will be determined with a vision system after to tool arrives at a pre-defined close point.
• Foot-runner: In order to assemble the adjustable feet to the refrigerator, a nutrunner-like system will be developed and attached to the tool.
• Feet Feeder: Adjustable feet will be collected into the feeder and one foot will be prepared to be taken by the gripper with a vibratory feeding system.
• Conveyor System: A conveyor system will be designed by taking the actual scenario into consideration. The refrigerator body will be brought into the working cell by the conveyor system and fixing system is going to make sure that it stays fixed for assembly.
Because of the complexity and incompatibility of the operations, various assembly applications have not become completely autonomous. By developing a suitable system for the assembly of adjustable feet for refrigerators, certain manipulation related challenges in the home appliances industry are planned to be eliminated.