Consortium: iKH
Project Hashtag: #Minotaur-R
Watch the experiment's video here.
Overview
One of the challenges in nuclear area is the sorting of debris, resulting from the decommissioning of fuel elements of Magnox type reactors. According to this challenge, the main objective of the Minotaur-R project is the development of an autonomous robotic system capable of detecting, picking and placing High Radioactive Magnox springs, which are scattered among other radioactive (Low or Medium) nuclear debris, on a separate tray to be finally stored in dry lead containers. After months of technical solution development and testing, we have reached the target of TRL6.
Minotaur-R mission
Minotaur-R's team mission is to develop an autonomous robot capable of overcoming the weaknesses of the current applied methods and technologies in nuclear waste sorting applications. IKH, a high-tech company with over 25 successful robotics and automation projects to its credit, will deliver a TRL8 pick & place solution of springs scattered among debris resulting from the decommissioning of fuel elements of Magnox type reactors. The proposed outcome will be gradually achieved in two Phases.
Minotaur-R solution
IKH developed and validated a TRL6 prototype in relevant environment during Phase I. The robotic system is a package of off-the-shelf components and broader technology enablers redefined for the specific challenge area and is currently able to exhibit high detection, picking and deposition performance indicators. Minotaur-R system's basis is a 6-axis industrial robot–the sorting process and enablers are independent of robot type or make. Minotaur-R can also use any type of scara, X-Y-Z-Theta robots and employs the following enabling technologies.
– Proprietary vision system to detect fully or partially visible springs based on their shape, not colour, using an RGB depth camera.
– Adaptive path planning custom, PC-based software (generates robot coordinates based on vision detection, vision frame to robot frame calibration tool, vision boundaries determination tool, robot workspace determination tool, robot movement and process sequencing, handling of peripherals).
– Spring Gripping system to pick non or partially occluded spring through the grasping fingers and for handling of the tools through the interfacing fingers.
– Metal detector simulating the radioactivity sensor to detect fully hidden springs.
– Debris Grasping system to pick hidden springs along with debris comprising of a vibration motor to reshuffle the debris and reveal possible occluded springs.
– Secondary tray with internal edge wedges to prevent springs accumulation in the boundaries, equipped with apneumatic actuated tipping mechanism to deposit the debris back inside the main tray. Used to place debris deposited by the debris grasping tool so as to identify hidden springs.
– Collision detection system to compensate for uneven distribution of swarf inside the tray by providing highly accurate linear motion, Z (depth) axis compliance, end-of travel detection, soft bump stops in both the upper and lower limits.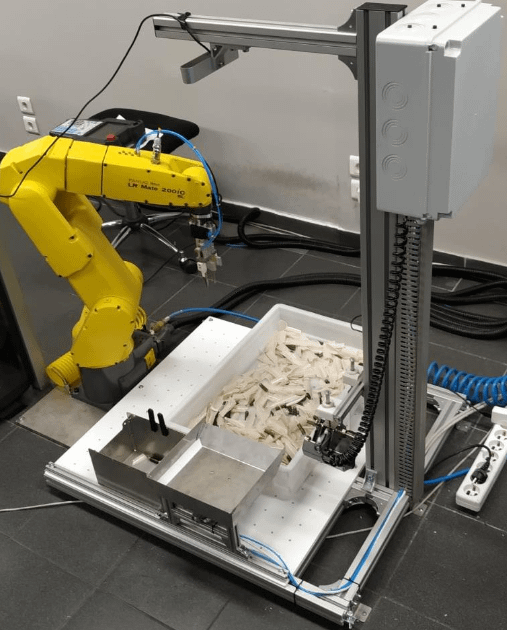 ---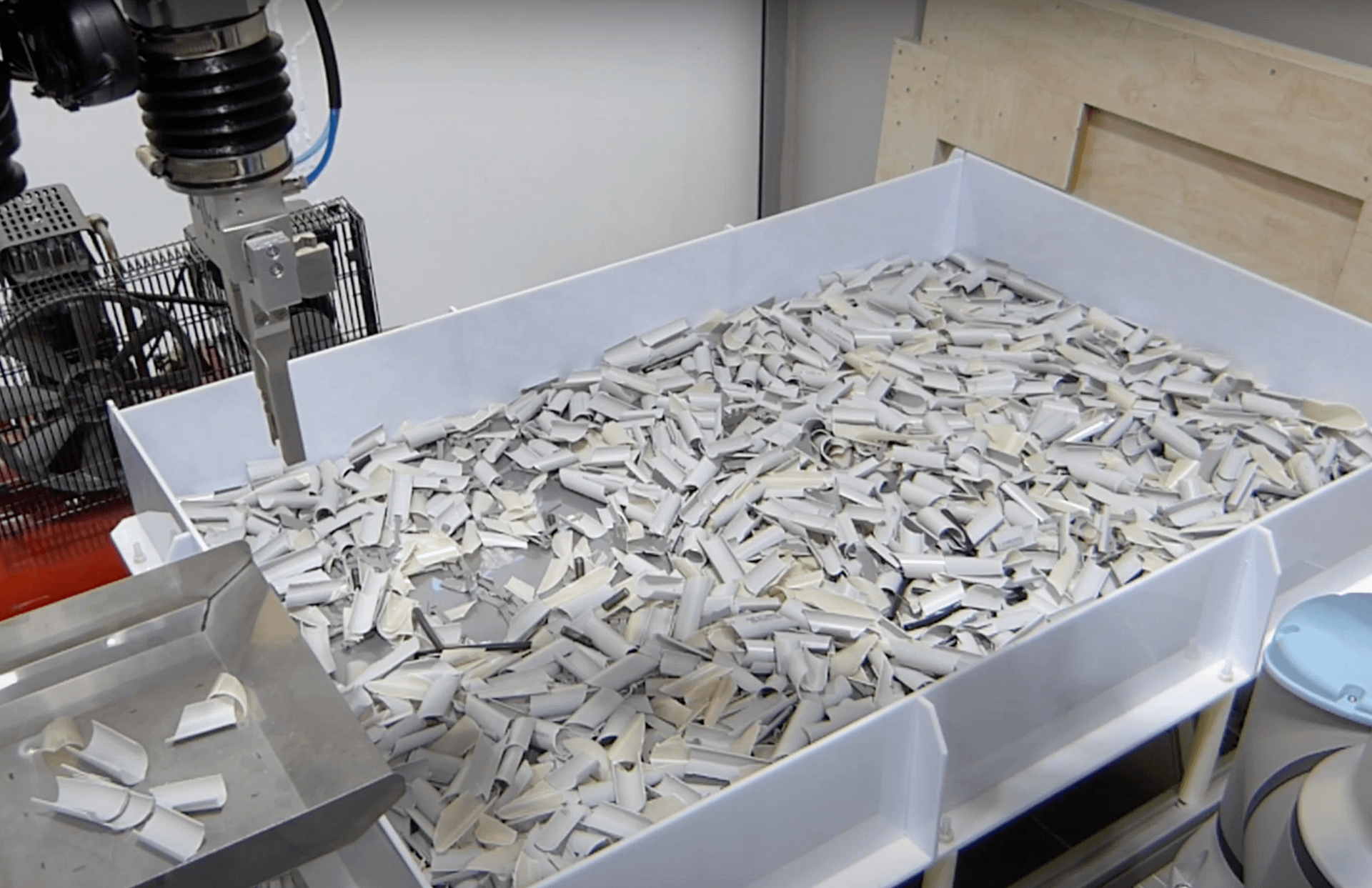 ---
Here you can watch an interview with Makis Pachos from Minotaur-R.